Welcome to Pat a Cake, the home of all naughty goodies that are a feast for both your eyes and your belly. We're a bougie pink cake superpower, in the middle of a little village called Spondon in Derby, that solely exists to satisfy all your wants and needs cake related.
Check out our instagram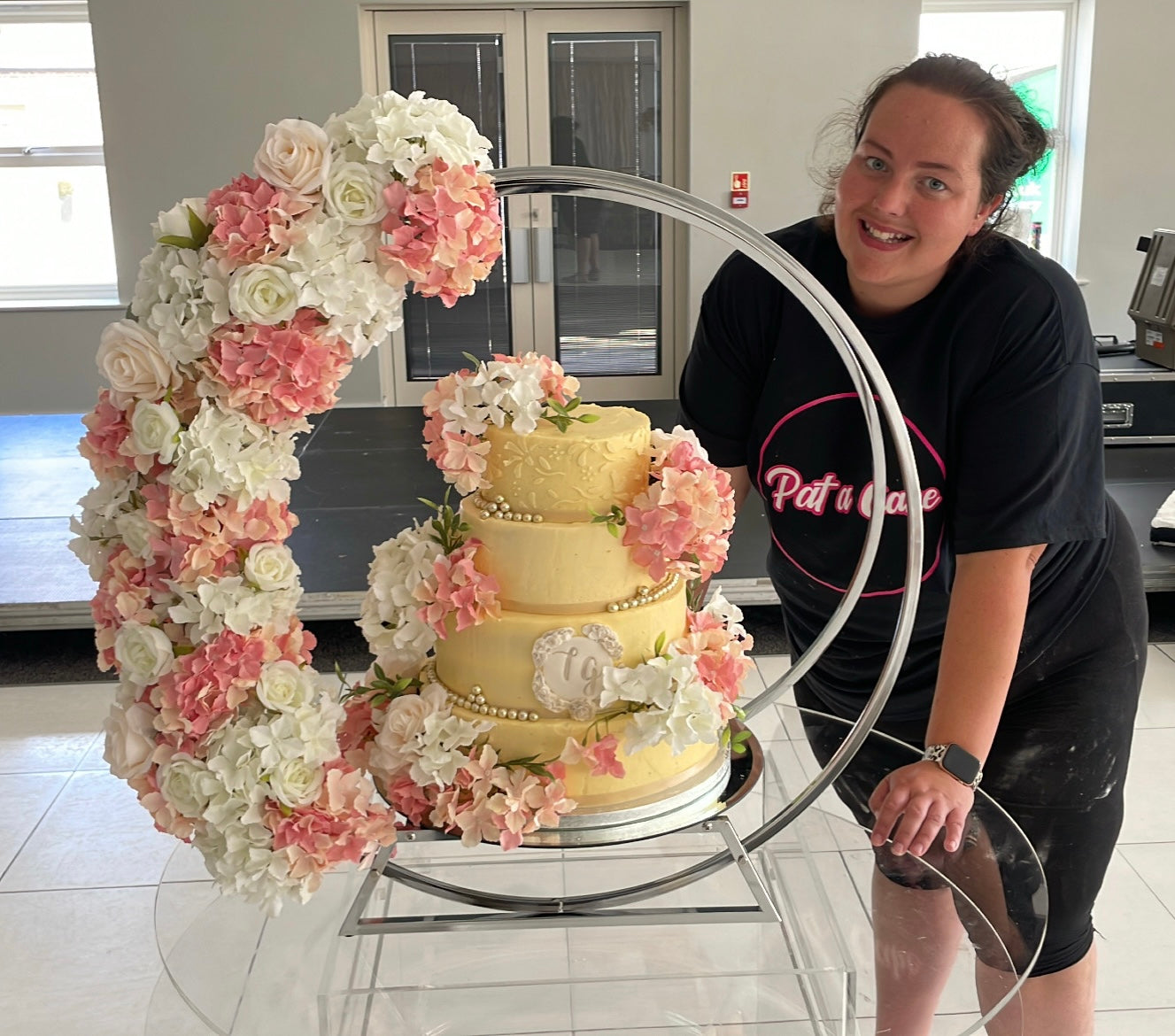 The big g - Lauren benton
Lauren's baking journey began as a hobby during a career break on maternity leave but very soon turned into her life passion. She quickly became established as one of the best bakers in Derby to the point where she's now regularly commissioned by some of the worlds best boxers, rappers and stars of radio and TV for all kinds of crazy cakes.
aka the pink palace
The doors of the Pat a Cake studio opened in September 2021. At our pink palace you can get a show stopping celebration cake and you can also order hundreds of custom branded goodies to engage, reward and treat your employees.
While sticking to our fundamentals - making totally out of this world bespoke celebration cakes - we embraced the opportunities to grow and branched out into multiple other endeavors. We're sending out pop-ups to events all over the Midlands. we've fulfilled corporate orders, making thousands of our goodies for the likes of the NHS, Colleague Box and other national level companies.
we've had a tonne of people asking to get hold of our goodies from all around the country.. we're really excited to bring you our online shop, so hit us up!
shop our goodies here
The A TEAM
Lauren

From Derbados

why i love pat a cake?

when I started pat a cake being a home baker, I knew that these products had literally no boundaries. i eat, sleep, breath cake. The passion i have for making a cake look and taste out of this world is my lifes mission.

my favourite cake?

I actually get asked this question a hell of a lot, i can never answer it. different times of the year just beg for different flavours. I'd defo prefer fruity flavours in summer and stodgy naughtiness in winter.

Jason

From Derby

Why I love pat a cake?

the fact that nothing gets held back creatively, you want an elegant wedding cake, we make it, you fancy a cake that looks like a chicken burger, we create it.

my favourite cake?

When i'm at home with the kids we love to get involved with a cornflake tart, fresh out of the oven, scoop of ice cream, BOOM, job done! When im in the shop or out on a pop up stall, a rolo thicc cookie always gets hidden away, when the shop closes, get in my belly.

Aneta

from czech republic

why i love pat a cake?

I think we have a great vision here. Our long term goals are massive, and the fact that day by day we're doing that with our amazing products is incredible.

my favourite cake?

I'm in love with our cookie range, there is literally nothing like a warmed thicc cookie the morning after a great night, when your heads a bit mangled and you need that good good.

Samuel

from czech republic

why i love pat a cake?

it's simply a vibe in here. our studio, our team, our goodies - you can't help yourself but adore them. (i also get free cake..)

my favourite cake?

that's a close one between maltesers blondie savage slice and our signature thicc base cookies and cream cheesecake but the winner is.. actually both. it's a draw. yin and yang in unison, duality of life in perfect synchrony.